Margaret Atwood's got some imagination.
I could not put this book down from start to finish. Each chapter left me feeling more incredulous than the last.
This dystopian society where women are used as sex slaves to repopulate the world was unfathomable but written in such a way where I felt it were happening right before my eyes.
Offred (our protagonist)'s flashbacks of life before the nation became ruled by religious fundamentalists didn't look much different than our present-day life which made things alarmingly believable.The severe contrast between life "back then" and the entrapped life she had grown accustomed to is terrifying.
Reading Offred's inner sardonic dialogue as she complies to twisted rituals and ordinances made me want to scream. At her.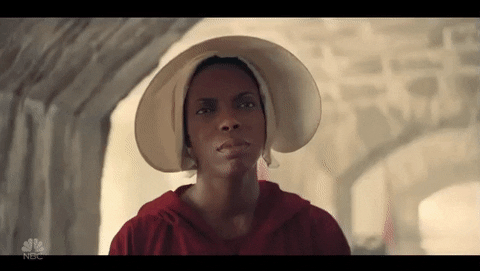 I suspect that's what Atwood intended for her readers to feel.
Without spoiling too much, most people who did not thoroughly enjoy the book as much as myself, felt the ending were too anti-climatic. If you're one who needs a story to have a clear-cut plot, this might not be the read for you.
That said, if a book can transport me into a different world (a disturbing one at that), AND elicit intrigue in its characters, you have my five star rating.